Allegra is an integral part of the GSP Athletics and Soccer Stadium complex and benefits from direct access to the entire range of sports training facilities available on-site. Set at approximately 130 meters elevation, Allegra offers an excellent base for performance camps and off-season or pre-match training.
The impressive GSP Soccer Stadium - opened in late 1999 - can seat up to 25,000 and can be easily adapted to suit almost any large outdoor event. The stadium features an outstanding range of facilities and can be booked for use by Allegra guests.
The well-maintained 5,200 seat Track and Field Stadium, overlooked by all of Allegra's guest accommodation and public areas, has a professional rubber crumb track surface and grass in-field that fully conform to IAAF Class 1 specifications.
Also adjacent to the Allegra building is a regulation-sized grass soccer pitch and further athletics events areas, which together provide added opportunities for training or preparation.
A professional fitness centre - sited under the main GSP Stadium - is available for use by guests, and contains an extensive range of the most up-to-date equipment.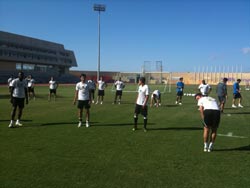 Allegra has a comprehensively furnished, state-of-the art conference room for team meetings, private strategy sessions or presentations. High-tech audio-video equipment is installed for participants' use.
At track level, with direct access by lift from all floors and giving immediate access to both the athletics arena and training fields, are modern air-conditioned dressing rooms with personal lockers, secure storage facilities for kit and equipment, and a medical centre. A newly constructed international-standard physiotherapy and treatment centre is also located at track level, for maximum convenience.
To complete the training facilities, and located at reception level, there is a TCI room and a large, well-equipped Media Room.
If required the Allegra coordinator will organise friendly games with local teams for many sports, subject to availability.
For training camps we have a package that, depending on the requirements is individually tailored to the needs of our customers.


• Accommodation in single and double rooms (separate beds)
• Three meals a day - buffet (sports menu)
• Juices, mineral water, coffee, tea to every meal
• Fitness center
• Conference room (DVD, projector, flipchart)
• Grass pitches
• Training twice a day - 90 minutes
• Mineral water for training
• Laundry (2 times a day)
• Massage room
• Room for equipment
• Airport Transfers